Your Benefits
at Hays
Your benefits
individual und flexible
It's important to us for you to feel good.
Not only at work, but also on the way to work, during your breaks and after work.Take advantage of our wide range of Hays employee benefits and receive discounts, training opportunities, the chance to work abroad and much more.
Our range of benefits is multi-faceted and partly dependent on your location and your position or department.
Find out now which benefits might be available for you!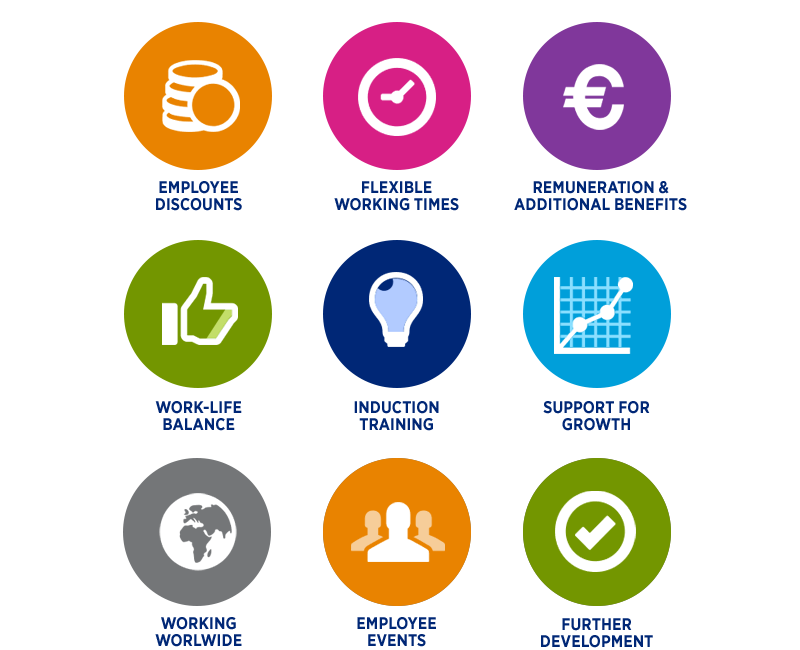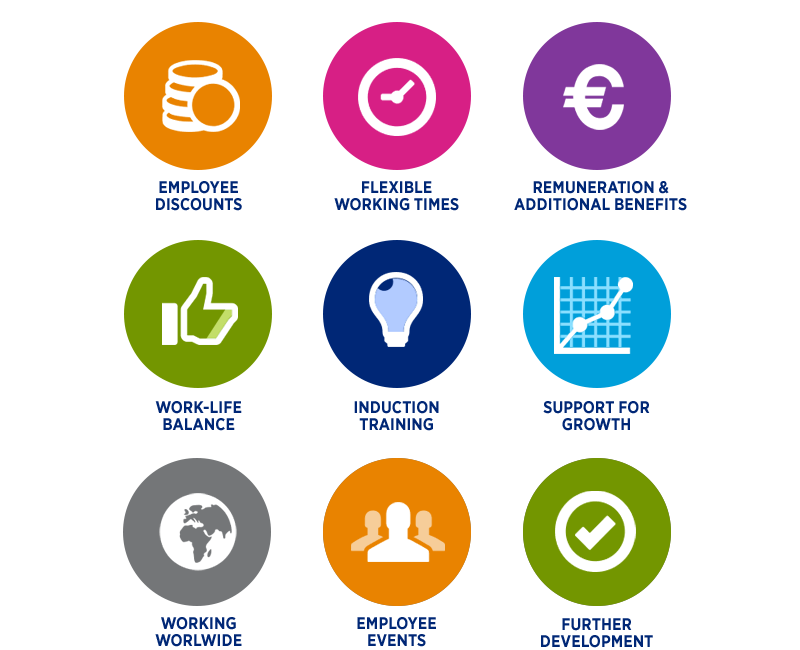 your benefits
at a glance
No matter where you work with us. You'll have the opportunity everywhere to take advantage of the attractive Hays employee benefits. We'll find the best job for you and offer you the appropriate Hays Corporate Benefits. Whether it's employee discounts, a job ticket, a stay abroad or further training – you'll receive the support you need from us.
Find your dream job at Hays

---
You can work flexibly
Flexibility is vital for us to achieve the best results. That is why within the scope of our productivity-driven trust-based working hours (ProVa), we offer you the opportunity of flexibly organising your working hours outside the core working hours of 10am - 4pm. You also have the option of working remotely, along with a variety of part-time options. If you are travelling for business or pleasure, you can use a workstation on a daily basis in one of our other branch offices.

---
Work-Life-Balance
The possibilities in our Wellbeing Program are manifold and include offers for physical fitness (fitness cooperations, company runs, online coaching programs) as well as offers for mental stability, such as a life situation coaching by an external consultant. In addition to these health-promoting offers, you also have the possibility to take special leave for a longer period in the form of a sabbatical.

---
Employee discounts
You'll receive access to numerous travel and leisure offers, as well as Hays employee specials on media, technology and fashion. We can make this possible thanks to our cooperation with the Corporate Benefits portal. We additionally offer you meal allowances in the form of Lunchit. Lunchit is a digital meal ticket that provides you with a tax-free lunch allowance, depending on your position and location – regardless of whether you are working in one of our offices or remotely on that day.

---
Support for Growth
Our Support for Growth programme was created to support you in pursuing extra-occupational study courses or other kinds of further professional training. The programme includes up to ten days of paid leave for the entire duration of support and the assumption of a certain financial share of your studies/training.

---
Induction training
With us you will be supported from the beginning. That's why you will be prepared for your career at Hays in the first weeks after your start at the Hays Learning Center. The induction consists of various training units, Q&A sessions and supplementary web-based training. Due to the current Covid-19 situation, our onboarding at the Hays Learning Center takes place completely digitally. In addition, you will have a mentor at your side from day one to support and accompany you during your on-the-job training.

---
Working Worldwide
We will support you with your development and with gaining international experience. Our international transfer programme offers you the possibility to take on interesting tasks at one of our foreign locations after only two years with our company.

---
Your remuneration and benefits
Our employees can take out a company pension plan, into which part of their gross salary can be paid as part of deferred compensation. In addition, depending on the location and local regulations, we offer employee cell phones and transportation subsidies in the form of job tickets and rail cards. From a certain position onwards, our employees are also entitled to a monthly mobility budget, which they can use flexibly, for example, for a company car, Bahncard100, "Jobrad" and other mobility offers, including during their free time. You can find more information about our Future Mobility concept here.

---
Employee Events
We regularly organise events for our employees, bringing together teams, departments, locations or even complete Hays Germany to jointly celebrate and do exciting things.

---
Challenge yourself with further development
At Hays, you can make use of different internal and external development opportunities, e.g. presentation, project management or communication training, language courses or other types of coaching, and thus develop at personal and professional level. As part of our regular employee feedback and development meetings, you will have the opportunity to talk about your individual goals and perspectives.